Who:
Name: Neymar da Silva Santos Júnior
Date of Birth: February 5th, 1992
Nationality: Brazilian
Position: Attacking Midfielder/Forward
Club: Santos
Making his Name:
Neymar joined the Santos youth team in 2003, where from his earliest years he was already considered the most promising of his generation. He would go on to make his first team debut on March 7th, 2009 at the age of 17. Neymar played the majority of the 2009 season, showing inconsistent form that is expected from such a young and dynamic player, but nevertheless causing witness of his raw talent and potential. Santos finished a disappointing 12th in the 2009 Brasileirão, but Neymar along with a certain Paulo Henrique Ganso were embraced by the Santos faithful as the wave of the future.
The 2010 season started with great expectations for the Neymar/Ganso duo. When Santos then managed to land the return of Robinho (albeit on loan), the feeling among fans was that even if silverware was not guaranteed, at least gorgeous attacking play would be. The players did not disappoint on the field, as Santos took all of Brazil by storm. They won the Sao Paulo State Championship scoring an incredible 69 goals in 19 matches. Neymar finished the competition with 14 goals, several assists, and the adoration of footballing powerhouse Brazil. Neymar, Ganso, Robinho, and young striker André were nicknamed Meninos da Vila, and Neymar was the leader of the pack. Robinho was often overshadowed by Neymar both on and off the pitch. The media storm took full force when a movement began calling for Dunga to call up Neymar and Ganso to the national team in preparation for the World Cup. Although Dunga never came calling, Neymar and Santos responded on the field by also winning the Copa do Brasil (similar to the English F.A. Cup).
Neymar finally received his national team call up for a friendly against the USA on August 10th, 2010, after Mano Menezes took over the Seleção post-World Cup. Neymar, with a building reputation of scoring in important games, prophetically scored a debut goal. Speculation also took over about major European interest in Neymar, which culminated in Chelsea making a summer bid of £22 million. Santos rejected and said they would accept no less than £30 million, which would have made Neymar the most expensive teenager in football history. But Chelsea refused to be lured to paying any higher, and Neymar instead signed a new long term contract at Santos. With all the speculation in the background, Neymar never stopped shining for Santos, ending the 2010 season with 42 goals in 60 appearances.
His 2011 started with a trip to the South American Sub-20 tournament, which Neymar starred in alongside São Paulo's Lucas. Brazil were crowned champions and Neymar was the top scorer with 9 goals in 7 games, including a double in the 6-0 thrashing of Paraguay in the final. This great start to the year was topped off with his third game for Brazil, a 2-0 win over Scotland on March 27th, 2011 where he scored both goals and was dangerous and exciting throughout. This made him the third player in Brazilian history to have scored 3 goals in 3 games for the national team. The fact that the other two on the list are Pelé and Romário only served to fuel the folklore already surrounding him.
Style of Play:
Neymar is a player that instantly captivates your attention because of his lightning speed and incredible trickery. He is the prototypical Brazilian craque, with a certain confidence and pompous swagger that gravitates from frustrating to awe-inspiring. Every time he touches the ball in the game he makes you instantly pay closer attention as you watch in expectation of something incredible. He plays with a clear joy that truly represents the jogo-bonito saying of Brazil.
But Neymar is about a lot more than just speed, tricks, and cockiness. He is actually a fantastic all-around player. As a forward he takes advantage of his speed to make well timed runs, and his light stature means he often draws fouls in dangerous situations. His finishing has also improved tremendously in the past year, as shown by his .7 goals/game ratio for Santos in 2010. One-on-one finishes against the goalie seem trivial to him, and he often times also scores in a crowded box, carving up a hole in the defense with a swing of the hips or foot. His agility, explosive acceleration, and bag of tricks all added to his dual-footed threat makes him a defender's and goalie's worst nightmare.
It would be unfair and unwise to solely call Neymar a forward though. He is a player that is constantly thinking, even without the ball. He is always looking for space, distancing himself just enough from defenders to make them think he is still being marked, but in reality opening himself to receive a pass. With the ball his speed and tricks are often-times used to perfection. He could round a marker, give a quick one-touch ball-heel pass back to a teammate on a run, or hold the ball long enough to wait for a pass to open up. This intelligence allows him to drop deep comfortably, allowing him to get involved in the build-up play when service up front isn't ideal. Neymar is always looking for the ball, and becomes frustrated if he doesn't get it.
If all of this weren't enough, Neymar also has another tremendous talent: the ability to make his teammates look better by connecting with them so well. It is incredible to watch how easily Neymar fits into a new team with new players and a new system. At Santos he was the centerpiece of the Ganso, Robinho, and André show; with the Brazil Sub-20 team he instantly formed a great partnership with Lucas; with the Brazil national team he linked up well on the left side with Andre Santos, exchanging one touch passes as if they had been playing together for years. This special ability is in large part due to Neymar's versatility in playing as an attacking midfielder, winger, or forward. His athleticism and skill, coupled with his on-field intelligence, make him a true phenomenon.
All is not perfect with Neymar though. Some believe he goes to ground too easily. His arrogance has also been put into question when in a game for Santos he refused the manager's order to not take a penalty. After the game Dorival Júnior, the Santos manager, criticized and banned Neymar for two matches, which resulted in the Santos hierarchy sensationally backing Neymar and firing Dorival. This was a huge controversy and caused many questions to be asked about just how much power and influence young Neymar already had. But since then Neymar has apologized and apparently turned a new-leaf, with the incident being labeled as usual growing pains of a teenage superstar.
What Others Are Saying:
"Neymar is, before anything else, very technical. To me, as a coach, what a forward needs is speed, one-on-one ability, and finishing. Neymar is on his own level in all three of these categories. He is one of these players that can play in the Camp Nou. To play on that field and on that team, the player needs to have great technique and a lot of class. In this sense, I compare him to Ronaldinho. Messi is unarguably number one in the world, but Neymar is one of those that are in the tier right below him. I remember in the Sub-20 South American tournament, there was half-time entertainment where show-boaters would cross the field without letting the ball drop. In one game, Neymar was with his teammates and started imitating the show-boaters for fun. What a show!" - Joan Martínez Vilaseca, Former Barcelona youth coach.

Video: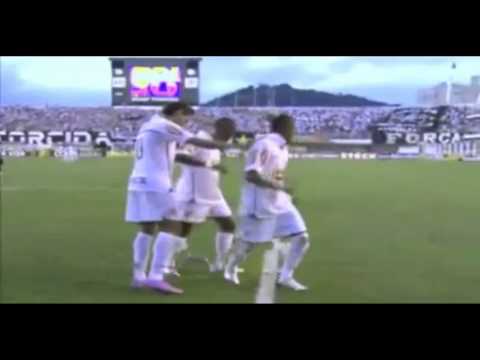 The Future:
Although Neymar has a long term contract with Santos and already earns wages of an European caliber, most expect his departure from Brazil to come in the summer. Not only is there speculation that there will be renewed interest from Chelsea, but the likes of Barcelona, Real Madrid, and Manchester City are all rumored to be circling like vultures as well. There is some concern that his slight build would be troublesome playing in England, but the recent game against Scotland showed Neymar can handle more physical opposition (albeit accompanied by several boos for diving). All that is left to do is see just how much Santos will ask for in return for their superstar. The £30 million asked for last summer now seems like a bargain compared to his current valuation.
If you enjoyed this article, be sure to check out our other Next Wave player profiles on the rising stars of the future.