Who
Name: Anderson Vital da Silva
Date of Birth: July 1, 1988
Nationality: Brazilian
Position: Centre Back
Club: Vasco da Gama
Making his Name
Dedé played his youth football at Aliança in 2002, before later moving to his hometown club Volta Redonda, in 2005. The club, who play in the Rio de Janeiro State Championships only gave Dedé his first-team debut aged 20 in 2008, but in the three years since the progress has been phenomenal.
In 2009, having impressed in the Campeonato Carioca once more, Vasco came calling for the young defender and it is at the Rio de Janeiro giant that Dedé has made his name throughout Brazil. Progress has not always been smooth for the towering centre-back, indeed, there was a time when the occasionally clumsy defender was on the verge of leaving the club after failing to make the first-team in his debut campaign.
However, as so often happened, an injury crisis arose at the São Januario and Dedé was called upon to fill-in, from which point he has never looked back. Having managed just two league starts in 2009, the next season was to start the same way with only ten minutes of action in the State Championships. Yet, the injury crisis arose and by December of the same year, Dedé had started 36 of the club's 38 league games and had been awarded the title of 'Best Central Defender of the Brasileirão.'
Incredibly, 2011 was to bring more of the same from the centre-back, as his performances were taken to a new level by increased consistency and composure, as well as contributing nine goals to the team's tally in attack. Vasco won the Copa do Brasil and as of late-November are still in with a real chance of both the League Championship and the Copa Sudamericana, with Dedé prominent throughout.
National team call-ups have followed the success that 2011 has brought, with the Vasco defender making his first two appearances for the Seleção in the August friendly double-header with Argentina, whilst in terms of awards, Dedé has been nominated as one of three candidates for 'Brasileirão Player of the Season', alongside Liédson and Neymar.
Style of Play
In many interviews, Dedé has confessed his admiration for former-Brazil defender Junior Baiano and has stated that he modelled his game on the 41-year-old Flamengo idol, still playing at Miami FC until just two years ago. Baiano was a much underrated defender for his time, but is now viewed with much greater affection by Brazilian football observers given the team of the 1990′s great success in international competitions. The similarities with Dedé are clear.
The Vasco man is tall and elegant, not blessed with blinding pace, but with an outstanding understanding of the game. For such a young defender, this ability to reading the game and anticipate the potential threat, combined with considerable composure when faced with highly talented opponents is remarkable – Dedé has twice been credited with nullifying Neymar. Over the past twelve to eighteen months, the development of these skills has been clear for all to see and now, it is rare that Dedé is at fault for moments of defensive panic.
Another feature of Dedé's game is his impressive aerial ability. Standing at 6'4" (193cm) tall, he has an obvious height advantage over many opponents, but combined with an impressive leap and good technique, it can be a useful weapon and Dedé has already troubled the scorers nine times in 2011 alone.
There is a propensity for tall players to be clumsy and this was evident early in the Vasco man's career. However, with the experience he has gained and his impressive all-round attributes, Dedé has recovered from these early set-backs to become a model of consistency.
What Others Say
 "There are many annoying defenders out there, but the most annoying [to play against] is Dedé. He is the best defender in Brazil." - Neymar, Nov 2011
Videos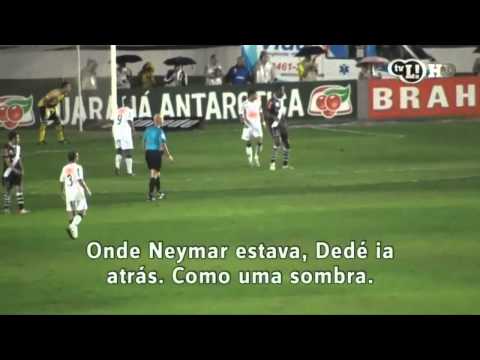 The Future
A good friend of Neymar, exchanging daily messages with the Santos player, Dedé has followed suit in renewing his contract in Brazil until 2014. However, being a couple of years older than his esteemed Seleção colleague, the Vasco defender may feel the need to leave sooner, rather than later. That said, in the past few weeks the player known as 'O Mito', or 'The Myth', has expressed his desire to remain at the club for the long haul.
Dedé is without doubt the finest defender currently based in Brazil and the prospect of a partnership with Thiago Silva at the 2014 World Cup looks more realistic with each passing week. The two players would appear to have complimentary styles and while doubts remain over David Luiz's naivety in particular, the Vasco man could propel himself into pole position.
European moves are without doubt a possibility, even as soon as January 2012, but Vasco will not give up their man without a fight and satisfactory financial compensation. Of all their assets, Diego Souza and Rômulo included, Dedé is without doubt the player who could command the biggest fee – given his age and talent.
Dedé has already turned down a proposal from Benfica in the summer of 2011, and is attracting great interest from Juventus in particular, with the Italian club hoping to strengthen their back-line in January. It is now without question that Dedé has the prerequisite talent and attitude to play for a top European team and lead the Seleção from the back, however as always, only time will tell if the progression continues.