Who
Name: Leandro Damião
Date of Birth: July 22, 1989
Nationality: Brazilian
Position: Center Forward
Club: Internacional
Making His Name
At 22 years of age and increasingly seen as Brazil's potential striker for the 2014 World Cup, Leandro Damião has not followed the traditional rise to fame usually associated with other Brazilian wonderkids. Unlike the likes of Neymar, Ganso, and Lucas who were seen as exceptional talents throughout their youth development, Damião is a late bloomer. A little over a year ago most Brazilians had never heard his name, and going back further to age 17, the then midfielder was struggling to even hold onto a youth contract at minnows Atlético de Ibirama, whose stadium seats a capacity crowd of 5,000 and whose greatest achievements are two 2nd Division titles in the often ignored Catarinense State Championships.
To understand Damião's meteoric rise is to understand his personality, which is one of determination and after initial disappointments, a penchant for making the most of opportunities. He began his footballing life playing for local sides in his hometown of Jardim Alegre, a quiet municipality with a population under 15,000. As a teenager wishing to follow his childhood dream and with the constant support of his father, Damião went to try-outs at several professional and semi-professional clubs at Paraná and other nearby states. He found rejection wherever he went, including at Atlético de Ibirama.
Recalling these tough years, Damião explains, "When I went to Ibirama a lot of people said I wasn't good enough," he pauses, then adds, "I had an awful lot of problems to face and I nearly gave up football to go and help my family." With his father taking two jobs to help pay the bills and travel for continuous tryouts, it is no wonder Damião almost gave up his dream. But then in 2008, following a positional switch from midfield to center forward, Damião earned a temporary contract at Santa Catarina side Atlético Tubarão. It would be the chance he had been fighting for, quickly establishing himself in the first team and earning a new tryout at Ibirama. He wouldn't need another chance, and in 2009 starred for Ibirama in the Catarinense State Championship, scoring 8 goals and being voted one of the emerging young stars of the competition.
"Up until the age of 17 and 18 I couldn't really see where I was going, but thanks to God and my family I found the strength to keep on working. I got stronger physically, technically and mentally, and things started happening" recalled Damião. His early 2009 form convinced Brazilian powerhouse Internacional to take the young striker on loan, who would go on to star for for their B-side in the Copa FGF. Inter finished as champions with Damião as top scorer, which was enough to earn him first-team opportunities in the 2010 Campeonato Gaúcho, with Inter's main squad participating in a hectic schedule that included Libertadores games. Four goals in 8 appearances was enough for Inter to purchase the rights for Damião before the price escalated further.
When Celso Roth took over as Inter manager, Damião saw his opportunities limited to national games as a heavy rotation policy set in. Nonetheless, 7 goals in 25 games (12 of which as a substitute) in the 2010 Brasileirão was enough to convince the Inter faithful that a new star was being born. Damião's brightest moment in 2010 would come in his one Libertadores opportunity, coming on in the second half of the second leg of the final, with the score 1-1 against Mexican side Chivas Guadalajara. Four minutes after coming on, Inter caught Chivas on the break and countered, with Damião gathering the ball at the half-way line, dribbling past his marker, and cooly slotting the ball home past the keeper from the edge of the box. Inter won 5-3 on aggregate, with the young star having played his part.
Much was expected of Damião for the 2011 season, who was granted the #9 shirt and starting spot from the get go. His evolution in just a year was clear for all to see, with 17 goals in 13 games of the 2011 Campeonato Gaúcho, which earned him the golden boot and player of the tournament awards. Making national headlines for his impressive goals per game ratio, the next question was then whether or not he would be able to take this scintillating form into the more competitive Brasileirão and Libertadores games. Although the ratio didn't stay quite as high, Damião still managed 14 in 28 games of the national competition, and another 4 in 8 in the continental tournament. Enough to crown him as one of the players of the year, and only behind Neymar in terms of a young talent who showed incredible consistency all year long.
Along the way in 2011 were several memorable moments. Two matches stood out the most: his backheel assist and phenomenal bycicle kick goal against Ronaldinho's Flamengo, as well as his hat-trick against Palmeiras which embodied his finishing instinct and cool in front of net.  Damião also continued his evolution by fullfilling his boyhood dreaming of playing for the national team, earning a total of 4 caps and 1 goal in 2011. Although his debut did not earn him a goal, he did hit the crossbar with a header and did not look out of place at a moment when most of the world still didn't know who he was. More caps would have come were it not for injuries during the season, but 2012 looks assured of providing Damião with more opportunities in the famous yellow jersey.
Style of Play
Leandro Damião can best be described as a classic target man. At 1.87 m (6 ft 1 1⁄2 in) and 84 kg (185 pounds) he is tall enough for the job, with enough mass to be a physical battler. His jumping ability is impressive, making him a threat against defenders significantly taller than himself. A long-ball up to him is always an option, where he is able to battle for and often win an aerial challenge with his back to goal. It is not unusual to see him cleverly flick a header or a directed chest-pass towards an overlapping teammate.
Where Damião truly shines is in front of goal however, where he is a predator. In and around the box he comes alive, battling his way for any chance to pounce on a ball to put in the back of the net. His physicality certainly helps him here, but it is his cool under pressure and at times sublime technique that make him as deadly as he is. Simply put: if Damião is given any chance at goal, he is likely to take it.
Perhaps the reason he is so deadly is his outstanding decision making in the box. His awareness of where the goal is, where defenders and the goalkeeper are, and where he should be, at times seem flawless. With the ball he can shoot from tough angles, lob with perfect weight, or rifle a shot at just the right location with such confidence and ease that it makes you think there was little doubt it was going in. His heading ability is also superb, not only with his knack to get power and the right direction behind the ball from even the most tepid of crosses, but also with his uncanny positioning and jumping to beat defenders.
All that said, there are certainly areas of Damião's game that need improving. The further away from the box he is, the less effective he is. Creatively he can be rather limited in his passing and doesn't always execute even when he sees an opening. Although he can win a ball in the air affectively, sometimes his ground game also leaves a little to be desired. He should do better holding the ball given his physical stature, but can lose it cheaply at times. He rarely drops deep to pick up the ball, probably with a lack of awareness of how ineffective he can be, which can lead to long patches of Damião not being involved in play. This can't be blamed entirely on him, since any good target-man is only as good as the service he receives, but means that if things aren't going his team's way than Damião won't be able to provide much to change the flow of play.
What Others Say
"Football is a game of moments and Damião's emergence has been strong, intense, and fast.  He has shown in the chances given to him that he deserves to continue in the Seleção. Unfortunately he picked up an injury, but he will return and if he continues from where he left off, he will become an important player for Brazil, as he is for Internacional." – Mano Menezes, Brazil National Team Manager.

"Leandro Damião is a powerful striker. Tall, strong, with a good sense of positioning, and great finishing. He is already one of the best Brazilian strikers." – Paulo Freitas, Brazil's Head Researcher for Football Manager, and Editor of O Jogo Bonito.

"Assuming Mano Menezes will field a reference in attack, it is likely that imposing Internacional striker Damião will edge out Pato for Brazil." – Robert Sweeney, Editor of Santapelota. 
Videos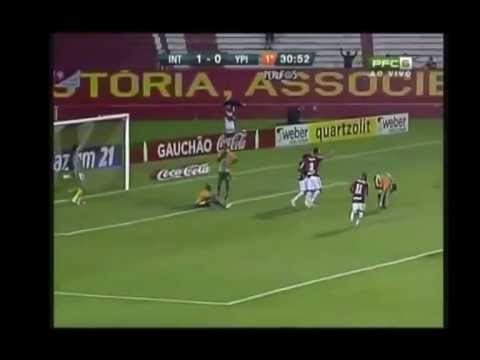 The Future
Since coming into prominence, Damião has been linked with practically every major club in Europe, with the likes of Tottenham and Arsenal the most recent rumors to gain any traction. His physicality certainly has many believing the Premier League would be a suitable home. But Internacional have different ideas. Although Inter had implied a few months ago that the club would be willing to sell for the right price (a speculated €30 million), after the conclusion of the 2011 Brasileirão season Inter chairman Giovanni Luigi said, "We are going to keep Damiao. He would only have two motives to leave – due to sporting criteria, or if the club had financial problems and needed to sell one of its stars. That is not the case here. I can assure you that Damiao will stay with us."
Inter fans will certainly be happy about this, and with the club recently signing São Paulo striker Dagoberto, many are looking forward to a front four of Brazil U-20 star Oscar, Argentinian D'Alessandro, Dagoberto and Damião. Dagoberto plays best as a second-striker, and is a speedy, creative forward who likes to drift around the box. This could in theory be perfect for partnering Damião as the more traditional target-man and Dagoberto playing off him and helping link up play with the creative midfielders behind them.
Barring any injuries, Damião should continue getting more opportunities for Brazil. Although Pato seems to be the preferred choice at the moment, with the Milan man so often injured and a victim of rotation at the club level, Damião is bound to get minutes. Others like Fred and potentially even Luis Fabiano also threaten, but for the moment Damião seems to have the upper hand. One thing is for certain: European clubs will have a close eye on Damião over the coming months, especially in any Brazil matches. €30 million seems a bit steep right now for a player who has really only had one excellent season, but if his form continues, the price might soon not be seen as an issue.