Who
Name: Thibaut Courtois
Date of Birth: May 11, 1992
Nationality: Belgian
Position: Goalkeeper
Club: Atlético Madrid (on loan from Chelsea)
Making His Name
Like many footballers, Thibaut Courtois did not start out playing in the position which he currently occupies, although this is rare for goalkeepers nowadays. He was originally a left-back, but was converted into a keeper after moving from his youth club Bilzen VV. to Racing Genk in 1999, aged just 7. His change of position was actually an accident, as his club urgently needed a keeper at a youth tournament, Courtois offered himself, and was named the keeper of the tournament.
After progressing through the youth ranks at Genk, Courtois made his debut for the first team aged 16, back in 2009. However, he would have to wait until the 2010/2011 season to become a first-choice and to show everyone just how talented he was. Courtois turned out to be one of the cornerstones of Genk's title success, conceding 27 goals in 30 games during the regular season (including 15 clean sheets), and then just 12 in 10 in the crucial play-offs.
Because of his outstanding displays in the Jupiler League that season, there was no shortage of clubs wanting to prize the young Belgian away from Genk, but Courtois eventually opted for Chelsea. As part of the deal, he was sent to Atlético Madrid on loan, initially for one season, but he has already taken up the chance to extend it for another year. Somewhat surprisingly, Courtois has been automatic first-choice since day one of his time in Spain, with Sergio Asenjo and Laszlo Koteles consigned to the substitutes bench. He has at times struggled slightly since his arrival, with a poor showing against rivals Real Madrid coming to mind. During that game he was sent off in the first half, giving away a penalty in the process. But I am sure that as he gains more experience and confidence, he will only get better.
Style of Play
The Belgian has often spoken of his admiration for former Manchester United keeper Edwin van der Sar and future Chelsea team-mate Petr Cech, but it is the former he most resembles. Standing at 6ft 6in, Courtois is a commanding presence in the area and uses his height to good effect, as jumping and strength are two of his main assets. Despite his height, he is very agile and quick reactions are one of his biggest strengths.
Able to get down to turn a shot round the post or to tip shots over the bar, Courtois is extremely flexible. The youngster also possesses great positioning and awareness, while he is not afraid to rush out off his line, showing the bravery that many modern keepers lack. Another strength is his great temperament. At Genk he went straight from third or fourth choice to undisputed first-choice almost overnight, and now he is already in the books of a major European club, while being first-choice at another.
Of course Courtois is not perfect, as the 19-year-old certainly has a few areas to work on. Although very mature for his age, his decision making needs improvement, as his knack of trying to punch or parry the ball in spectacular fashion will need to be dropped soon. The youngster's long passing isn't the greatest, neither is his ability to organize his defence, and in the modern game these are both necessities for all top-class keepers. However, with a year and a half left as a first-choice keeper in one of the best leagues in the world, Courtois is likely to iron these weaknesses out sooner rather than later.
What Others Say
"I've known Thibaut for 5 months now and he has stood out wildly at Atlético. His assured future stardom isn't due to his reflexes and goalkeeping ability at such a young age, but the fact his maturity on the pitch resembles that of a seasoned veteran. That is what makes him unique and why Atlético will regret getting to him after Chelsea. I am convinced he will overshadow De Gea once he arrives in the UK." – Dani Hidalgo, Atlético Madrid reporter for Diario AS.
Videos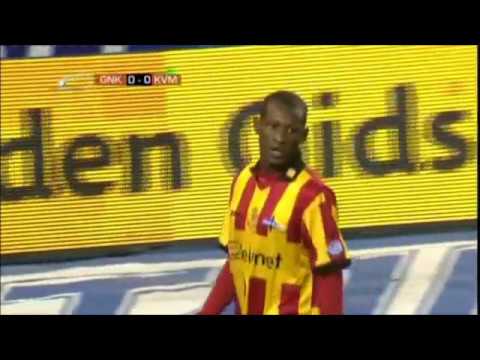 The Future
The Belgian's future is fairly certain for now, as he has agreed to extend his loan at Atlético Madrid to include next season. Thereafter he will return to Chelsea, his parent club. It remains to be seen whether he has the potential to dislodge Cech from Chelsea's No 1 spot, but we will wait until that time comes.
Courtois also got himself in hot water not long after signing for Chelsea, after telling a Spanish radio station "Chelsea's goalkeeping coach told me he doesn't know how much time Cech can play at the top level. I know he has problems in his knees and on his back." His manager Andre Villas-Boas was not happy with these comments and put an end to them immediately. However, it must be said that this was very out of character from the Belgian, and it's unlikely to happen again.
From an international perspective, Simon Mignolet is currently No 1 for Belgium, but is sure to be overtaken by the younger shot-stopper fairly soon. I would even venture to say it would be very surprising if the Atlético Madrid keeper was not first-choice for the 2014 World Cup qualifiers.
Time will tell if he has the ability to become a great in his position, but if he keeps at it and manages to adapt to the Spanish and English leagues, then who's to say he can't be even better than Petr Cech?