For the past week, stories have been emerging across Europe about the ongoing transfer battle reputedly being fought between Manchester United and Real Madrid for the 'next Luka Modric' – so just who is Dinamo Zagreb's Alen Halilovic?
Who?
Name: Alen Halilović
Date of Birth: 18 June 1996
Nationality: Croatian
Position: Central-midfielder
Club: GNK Dinamo Zagreb
Making his Name:
Alen Halilović is the son of former Real Valladolid and Bosnia midfielder Sejad Halilović, who is now part of the coaching staff at Dinamo Zagreb. By 2011, aged just 14, the youngster had been spotted by Real Madrid at a youth tournament and came close to joining Los Merengues, having had no official contract with the Croatian side at the time. However, Dinamo were not to surrender their talent easily and the club temporarily suspended both Alen and his father for negotiating with the Spanish side, with FIFA rules prohibiting international transfers before the age of 18. Faced with the prospect of over three years without playing competitive football, Halilović agreed a new four-year scholarship contract with Dinamo and has since revealed a desire to remain at the club for some time yet.
In the summer of 2012, a 16-year-old Alen signed a first professional contract with the club, having excelled in the club's junior ranks and, by mid-September, was called-up to train with the first-team squad – a move which brought the youngster to the attention of the wider European media. On 30 September 2012, Halilović Jr. was handed his senior debut, coming on as a substitute in the club's 3-1 victory over traditional rivals Hajduk Split.
Style of Play:
Halilović is often compared to fellow countryman Luka Modrić, with both players bearing a significant resemblance in both playing style and appearance. The Dinamo youngster stands at just 1.70m (5'7″) and, as with his compatriot, is only slight in physical build, however he uses his excellent close control to shield the ball well from more physical opponents at youth level.
A central attacking-midfielder, Halilović is heavily biased towards his left-foot, with which he has been a regular goal-scorer at youth level thanks to his ability to finish precisely from both inside and outside the box. The starlet has also been somewhat of a set-piece specialist in the youth ranks. While his speed and excellent technique allow him to skip past players at youth level with ease, it will be interesting to see how he comes to deal with more experienced, stronger defenders now he has started to make strides in the first-team.
As with the majority of top players in his position, Halilović has the ability to turn on a sixpence with the ball at his feet, leading defenders to naturally back-off and afford him time in possession. However, given the quality of his left-foot, his natural inclination is generally to look to move the ball onto that side and there perhaps needs to be more variation to his game. Besides that, in the coming years, he will want to work on his core body strength in order to step up to higher levels.
What Others Say:
"We must be cautious. The goal is to work and train with the first-team to bring him to the highest level. He will continue to play with the juniors but we will not wait long for his debut with the professional team. Alen is something special. He hits the ball differently and it will be interesting to follow his development. Given his talent and potential, the impression is that he has no limits." – Ante Cacic, Dinamo coach. September 2012.

"He's a wonder. Securing his stay at the club was the most important thing we did this summer, because several top European clubs wanted him. A lot of people have compared him to Luka Modric, but he's better than Luka was at this age. Everyone at the club thinks he has even. more potential and that he will become one of the best players in the world.' - Zoran Mamić, Sports Director, Dinamo. September 2012.
Videos: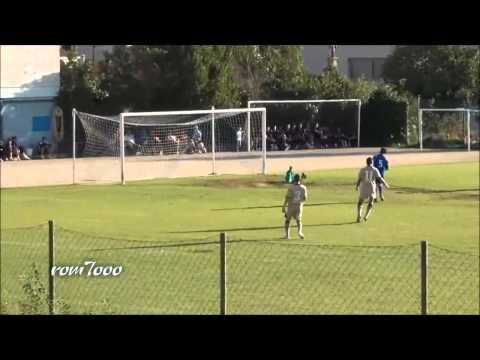 The Future:
Halilović has, in recent times, been linked with a move to some of Europe's biggest clubs, with Real Madrid and Manchester United reportedly leading the chase. While comparisons with Luka Modrić will always attract attention, it is also true that Dinamo are a club heavily monitored by European scouts, having produced the likes of Real Madrid star Modrić, Hamburg's Milan Badelj and former Tottenham midfielder Niko Kranjčar amongst others in the past decade.
The youngster, for now at least, is playing down a move abroad, with Dinamo offering first-team football and Champions League opportunities in the coming months. Halilović told reporters: "Stories about Real Madrid
 and Manchester United?
 I don't give much thought about those kind of stories. Dinamo will decide what will happen to me, all I have to do is just try to develop as much as I can. Everything else doesn't matter right now."
The key now will be for the club's latest academy graduate to find his footing at senior level. Playing in a Dinamo side that are a level above most opponents in their domestic league, there will be plenty of opportunities for appearances in the season to come, whilst there remains the possibility of Halilović making his first Champions League appearance in this 2012-13 campaign. The next couple of seasons will be crucial to the youngster's development and, given their track-record, Dinamo would appear to be the best place for him to learn his trade – for now at least. On an international level, meanwhile, the youngster will no doubt hope to represent his country at next summer's Under-19 European Championship, should they qualify later this month. There are a lot of potential pitfalls along the road ahead, but there is no doubt Halilović Jr. is one to watch in the years to come.
*Thanks to Croatian football expert Aleksander Holiga (@alexholiga) for his assistance.