Who?
Name: Philippe Coutinho Correia
Date of Birth: 12 June 1992
Nationality: Brazilian
Position: Attacking Midfielder
Club: Liverpool
Making His Name:
Philippe Coutinho's career has been a mixture of exceptional promise and, until very recently, a sense of unfulfilled potential. A meteoric rise to fame began when Italian giants Inter Milan signed the young Brazilian from Vasco da Gama at the tender age of 16, although he would be forced to spend a further two years on loan to the Brazilian club until he could complete his move on his 18th birthday.
In July 2010, Coutinho arrived in Italy, where club chairman Massimo Moratti proclaimed the youngster as the "future of Inter", making his debut for the Nerazzurri in the side's 2-0 defeat at the hands of Atlético Madrid in the 2010 UEFA Super Cup final. However, a frustrating couple of years would follow as injuries and lack of first-team opportunities stunted the Brazilian's development.
Looking for first-team football, Coutinho was then sent out on a six-month loan to Espanyol in January 2012 where he impressed under coach Mauricio Pochettino, scoring five goals and assisting six more in 16 appearances for the La Liga club. Upon his return to Inter, though, Coutinho would suffer yet another injury and opportunities at the club dried up once more.
In January 2013, salvation came in the form of a move to Premier League giants Liverpool, as Reds boss Brendan Rodgers moved to sign the young Brazilian in a £8.5m deal. Although still adapting to life in England, Coutinho has thus far flourished under the Northern Irishman's tutelage. Two goals and seven assists in his opening 12 games highlights his impact on the team and a budding partnership with fellow January signing Daniel Sturridge appears a source of promise for the club's fans.
With a pre-season under his belt and more time to gel with teammates, 2013-14 will be a big test of the young starlet from Rio de Janeiro, and his ambitions in the Premier League.
Style of Play:
Coutinho is a technically accomplished player, equipped with an excellent first touch, the ability to beat his man with just a dip of his shoulders, and a natural ability to find space on the pitch. These qualities are allied with extraordinary composure and vision for one so young.
The former Inter starlet also possesses strength that belies his slight frame, using his low centre of gravity to great effect, allowing him to hold his own against more aggressive defenders. However, it is his passing ability that distinguishes Coutinho from his rivals.
Having arrived in England, the Brazilian was initially deployed on the left side of Liverpool's three-man attack to moderate success. His ability to drift inside and open up defences gave the Reds an extra dimension in attack. But, it was his move to playing behind the striker, following Luis Suarez's suspension, that allowed Coutinho to shine. Taking advantage of the pace of Daniel Sturridge, the Reds star demonstrated a range of passing that truly caught the eye.
Coutinho needs time in his favoured central attacking midfield position to fulfil his potential as a playmaker. If he was pigeonholed into becoming a wide attacker, it could limit his potential. In his natural position, he has all the tools needed to become a truly top class player. Whether he will be given the opportunity to do so is yet to be seen.
While his strengths are remarkable, Coutinho has his weaknesses too. The biggest being an alarming tendency to go missing in the big games.
Although it must be mentioned that he played on the left wing against Merseyside rivals Everton and Chelsea, Coutinho's impact was visibly diminished with close attention from opposing full-backs. It is possible that, had he played in the middle, it might have drawn a better performance out of the youngster. However, it's still a big question mark that he must seek to answer.
He is also yet to prove that he can sustain spells of good form at senior level, having only performed to the best of his ability in patches thus far. Next year, having become familiar to Premier League defenders, we will see whether he is able to consistently reach the levels that he has shown thus far in a Liverpool shirt.
That said, there can be no doubt that Coutinho is a potentially special talent. All that remains is for the youngster to grab his chance with both hands and fulfil that potential in the coming years.
WHAT OTHERS SAY:
"Even though he is only 20 and though he might be small in stature, he's got real strength and he has the right temperament. How he rolls the ball and the way he passes. His comfort on the ball is amazing. He fits perfectly into what we're trying to do [at Liverpool]." - Brendan Rodgers, Liverpool manager, May 2013. 

"For me, he's a phenomenon. He's like a Ferrari. When he's dribbling with the ball at his feet, you just can't catch up to him." - Juan Jesus, former teammate and Inter defender, February 2013.

"I do think Coutinho has that same quality that Ronaldinho and Messi have, but he has much to prove yet." - Mauricio Pochettino, Southampton manager who coached Coutinho at Espanyol, March 2013.
VIDEOS: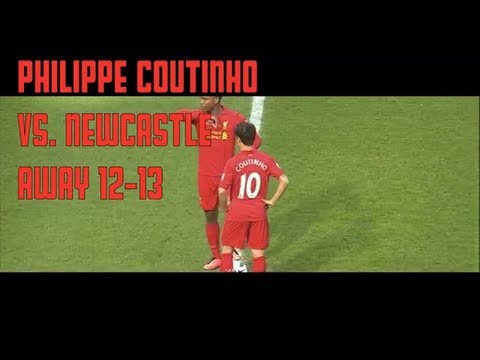 The Future:
Coutinho clearly still has enormous potential, and while his career development may have temporarily derailed at Inter, he still has the potential to make a name for himself as one of the better attacking midfielders in Europe. In order for that to happen, though, he must focus on his game at Liverpool and ensure steady improvement. Two major sources of concern in this regard will be his appalling injury record and his early habit of going missing in bigger games.
His performances in the latter half of the 2012-13 season, though show that he can succeed in the Premier League, and there are already calls from supporters to build a team around the Brazilian should fellow South American Luis Suárez leave the club. It certainly wouldn't be a surprise to see Coutinho become one of the league's top players within the next two to three years, if he could maintain current performance levels.
Realistically, the 2014 World Cup may come too soon for Coutinho as he will be competing with the likes of Oscar and Lucas Moura, who both have head starts on their European careers at Chelsea and PSG. They also will have plenty of Champions League experience before 2014, something Coutinho still lacks, and looks unlikely to obtain anytime soon.
The youngster should be aiming for inclusion in Brazil's 2018 World Cup squad, where he'll have the time to develop his game and gather experience in England as well as in Europe. There may come a time where Coutinho may need to move on from Liverpool if they don't return to Europe's elite, but such concerns will be sidelined at this moment in time. The next two years will be crucial for Coutinho in determining whether his current form at Liverpool is a sign of things to come, or just another flash in the proverbial pan.